| | |
| --- | --- |
| | |
| | |
"Love is stronger than death even though it can't stop death from happening, and no matter how hard death tries it can't separate people from love. It can't take away our memories either. In the end, this is why life is stronger than death."




This memorial website was created for family and friends of our beloved, Joey Wettach. It is our way to communicate to the man we love so much. He leaves behind his wife and best friend for 15 years, Anna Wettach and his proud parents, Walter and Chong Wettach. He was an amazing father to six beautiful children; Joseph, Jerica, Jordan, Jovan, Jenaya, and Jazilyn. He also leaves behind his sister, Jeanie Terico and his three nieces, Toni, Stephanie, and Zoe. Friends from all over the world miss him dearly. Reminiscing with your "Brothers" has shown me of the good times you've had and of the great man that you are. Too early, too soon, but we were blessed to have had you in our lives. The Love, the memories and the stories from your years on Earth with us will be told over and over again to bring smiles to our faces and joy in our hearts. We love you..........I love you......forever and always, Anna.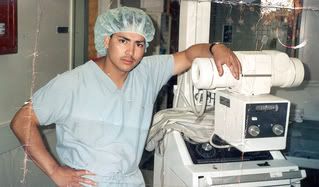 October 31, 2007:
I found a few pictures from last Halloween when Joe was Jack Sparrow. He looked just like if not better than Johnny Depp, in my opinion. He actually had women stop and ask to take pictures with him and his gold teeth, lol. I can't wait to put together the other pictures from Halloween past...Elvis, Julius Cesar, The Crow, either Hanz or Franz (from SNL), etc.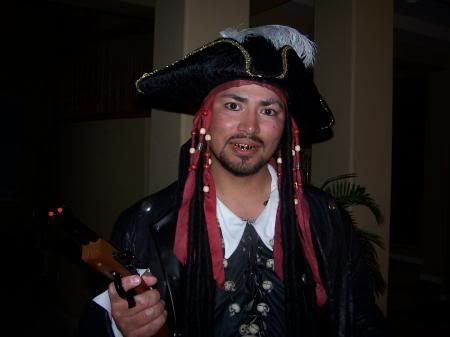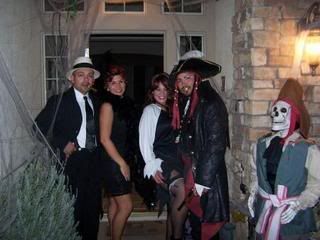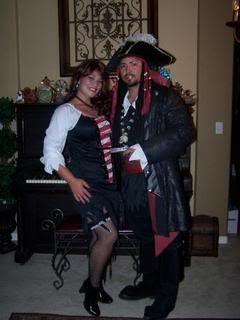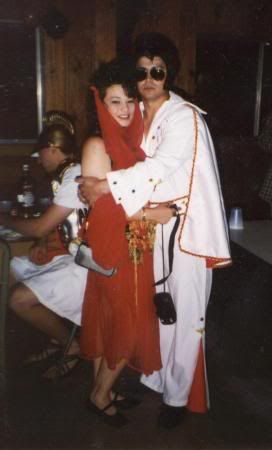 October 20, 2007:

Dear Joey,
This was the year of your big surprise party. You were always so good at knowing when something was about to happen. We figured a big 41st party would have been unexpected if your 40th wasn't a big deal. I regret that now but I hope that you knew just how many people are always thinking of you and how many lives that you have positively affected. For your birthday friends from your units came over to celebrate you and give the kids and I your shadow box of medals.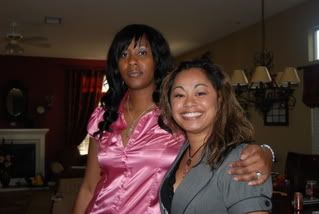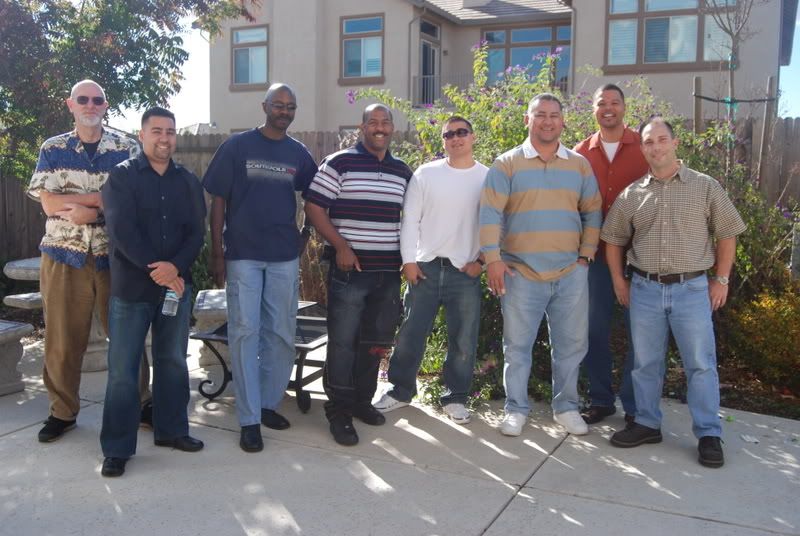 Another gift for your birthday was from Ray and Veva. They named their baby after you, in your honor. We all love you, Joey.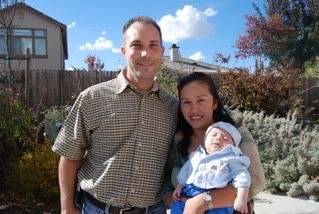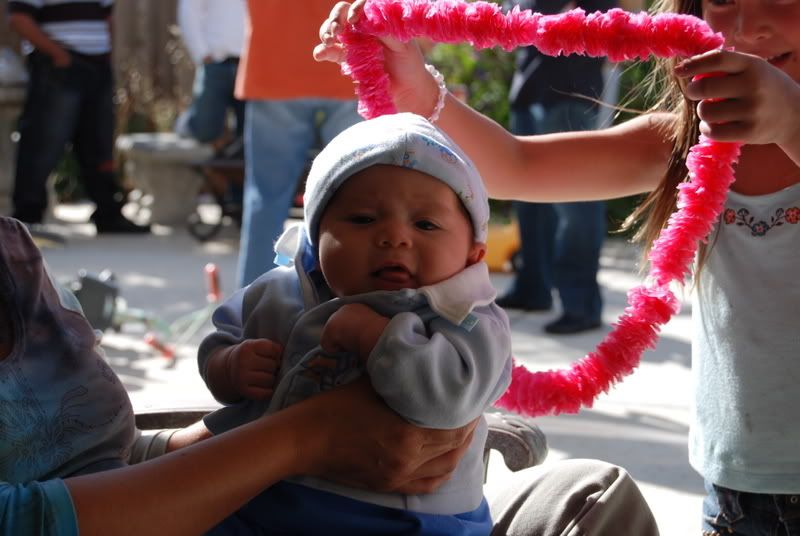 Buck, Tammy and Alyssa also drove in to reminisce with me. Joe, they really miss you too. It's not the same without you here cracking your dee-jokes. And look! Alyssa still loves her blanket that we made for her!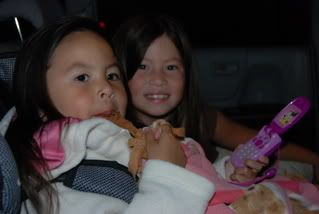 September 28th, 2007:
Dear Joey,
The Holidays are quickly approaching and for the first time, I am dreading them. Friends have urged me to decorate as we have done for the past 15 years. I didn't realize how every item had a story to tell, a memory of you. I miss you so much, Joe.

The loneliness of nights alone
Never to feel shivers as I hear your tone
Your gentle touch I'll never again feel
Our passionate kisses I can no longer steal
The search for strength to carry on
Knowing a part of me is forever gone

Every night I light a candle
and think of the saying that
God does not give you what you can't handle.
But without you in my life
without proudly being your wife
Life's beauty, it's precious moments, can't be fully enjoyed
because without you to share it with, there is such a great void.

My eyes have no more tears to cry
My every hope has seemed to die
Our dreams will never become reality
And I still do not understand the reason why
The day you died seems so far away
But that nightmare in my head continues to stay
The desperate feelings, the helplessness
all that we could be, all that we have built
is gone.

But then today...
I cried again
As I pulled out decorations from Holidays passed
Remembering the laughs, your thoughtfulness
I thought I could feel you as I sat on your motorcycle and in your car
For a moment the distance between you and I wasn't so far
Then like the sun shinned from up above
You surrounded me with your endless love
And all the things I couldn't see
Are now so clear to me

You and our children are my everything
There is nothing your love won't bring
even in death...
Your spirit pulls me through
When nothing else will do

I Love You




Back in the day....when he and his crew would travel to win breakdancing competitions.




Joey and his blue eyes. A true Romeo..



He loved Kareoke...he really had a good voice too, when he wasn't clowning around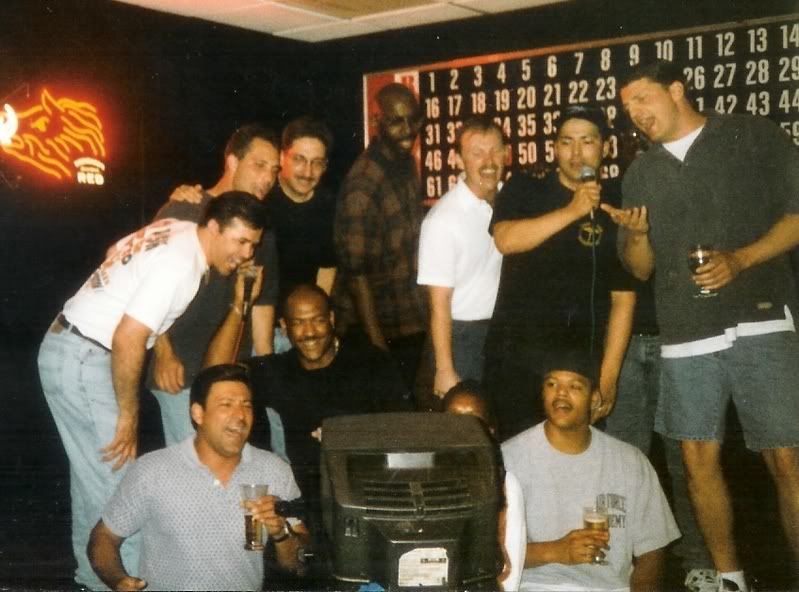 He was always there for his friends. (pic was from Eddie and Jessica Valero's wedding (Joe was the best man)(Eddie and Jess are soooo cute together!~ Joe just loved seeing his friends happy) )



Joe, the lion tamer..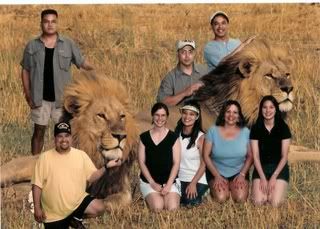 To those whom have been inquiring, an account has been opened at Umpqua Bank. More information and locations are detailed in the 1st tribute by Daryn Kumar (thank-you Kumars!) close to the bottom of this page. I thank-you sooooo much for ALL of the support we have received; family friends, military companions, co-workers from Methodist, UCDMC, Kaiser, Doctor's Medical Center, Sutter, & Mercy, and the communities of Elk Grove and Rancho Murieta has really shown us how blessed we are. I feel very fortunate to be surrounded by such genuine people. From the bottom of our hearts we appreciate all of your love, open arms, and support. Because of you, we were able to give Joey a beautiful funeral..that meant so much. We are now working on the medical bills and trying to keep our home. I will be starting the job interview process (phone and in person) next week. Please wish me luck! Thank-you and *HUGS*, Anna






July 23, 2007:
Dear Joey, This morning I couldn't stop crying. Our beautiful children are now in school. There were so many fathers there to see and hold their babies before the big day. I couldn't help but to feel an overwhelming feeling of sadness for our kids because they will never have that...you won't be here to see them off to school, to pick them up, to cheer them on in their school productions, to dance with them, to help them, to physically love them. It hurts so much, I always thought we'd have forever. There were alot of our friends in the classrooms so the concern was in their eyes as our babies had to sit by themselves as I ran to the other classrooms. I wrote this, this morning..somehow it helps me, don't know why. Babe, I know you are here with us in spirit...but it is just not the same. We miss you and wish we could feel your touch, hear your voice, and see your open arms.

For my kids, I hurt deep inside
because of them, I cannot run and hide
I want so badly to be strong
but everything I do, just feels wrong
Crying
Dying
I want to live
A new life for my children, I want to give
Missing Pieces, Broken Hearts
How do we make a brand new start?
I look into my childrens' eyes
I can see that the love from their father never dies
They'll hold him strong in their memories
For that is where he'll forever be...

We love and miss you so much.....



June 19, 2007:
Here are a few pics from friends.
Our private viewing (June 5th/6th): The girls are finally comfortable with touching the body of their daddy. The other kids did not want me to share a picture of them from this day. On the way home from the funeral home, the kids were all talking about daddy's spirit and how they could feel daddy's spirit next to them. Since Daddy did not look the same as he usually did, the kids understood that since his spirit was no longer in his body, the body could no longer look the same and was decomposing without his spirit. The kids understood that we have a funeral to honor the body that held Daddy's spirit.




Thank-you Adevia Mackes for these pictures.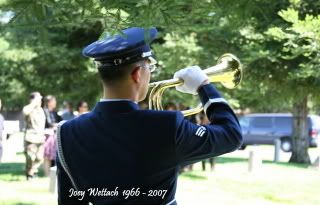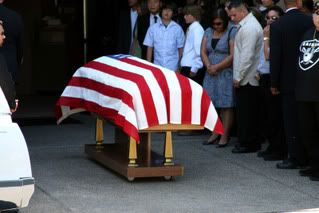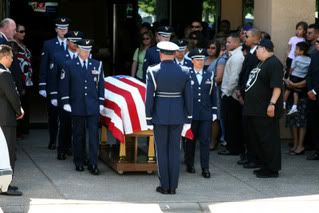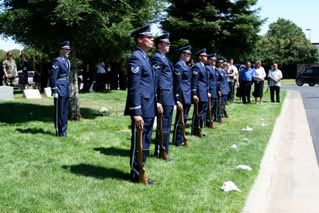 Here are just a few photos I have received so far taken from Richard Coleman (thank-you) on the day of Joe's funeral (June 11th). For those that could not attend, I know that he was in your thoughts and prayers. For those that were present, I thank-you for your support. With love~ Anna As his wife, whenever I would pass the honor detail would salute me. This was very emotional for me as my husband lived to ensure that his family would be respected and fulfilled. I miss him, and wish he could see how important he is to so many people.





In this picture, the honor detail prepares the flag to present to me. It doesn't feel right that I should be so honored as it was Joe that did all the work and was the one that gave so much of himself.




After the 21 gun salute "Taps" is played by the beautiful bugel.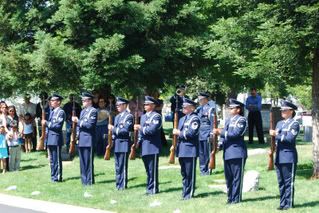 Joey's body is carried into the hearse by a few of his closest friends, his brothers. Per Asian culture, we drove him by our home so that his spirit can find his way back to the house.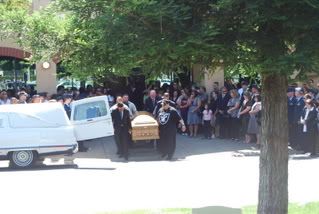 Greeted at our home by flowers, my husband can now find his way home. Please rest in peace my surreal husband. The kids and I will always remember you and forever love you.



June 17, 2007:
Dear Daddy,
Today we are going to send you balloons with some notes and pictures. We hope that you get them. We are also going to make your favorite upside down pineapple cake. We miss you so much and want you to know that you are the greatest dad ever. Everyone misses your tickles. We love you daddy.






Daddy I really miss you. I miss you carrying me up the stairs when I'm sleepy. I like to sing with you. I like to play soccer with you. I want you to tickle me so that I can say that my daddy is the greatest. i will never forget you. I really like it when you read me stories when we are in neya's room. I love you daddy. ~Jazi




I love you Daddy, you are the best dad ever. I will never forget you. I miss you soo much. I will always love you. I liked when you tickled me and made me say that daddy is the greatest. I miss your funny faces that you would make at me. So I'll never forget those and I wil see you again. ~Jenaya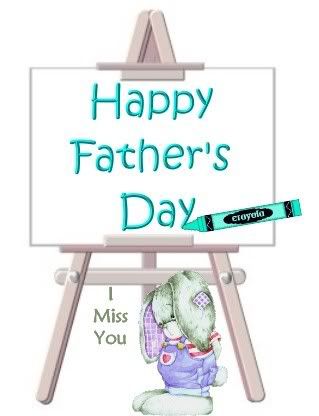 Daddy I miss playing Halo 2 with you. Everyone will always miss you. Daddy I didn't get to tell you that I got accepted into Gate. I will always make you proud and get good grades. I miss swimming in the pool with you. You were funny when we would sing kareoke. Thankyou for teaching me how to shoot a basketball with one hand. I love you ~ Jovan.




Dad I miss your hurtful tickles. I miss laughing at you dance. I really miss playing baseball with you and I promise to keep playing. I am really sad that we didn't get to do the golf tournament together next month but I will try to do that with mom. I really miss you. I miss your smell...but not the ones that you would blame on me. I miss how I would always beat you in Halo 2 but if I could, I would let you win if we could play again. I miss and love you dad~ Jordan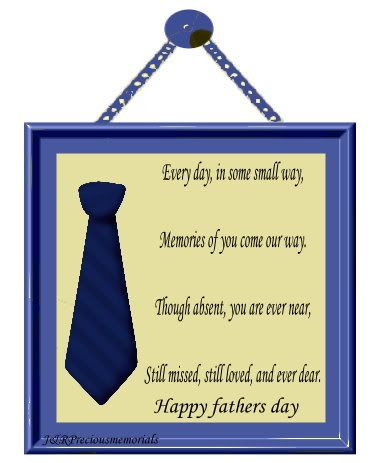 June 13, 2007:
Dear Joey, I can't help but to feel so much anger because you are not here. I miss you so much! The kids miss you dearly. I keep thinking that you will come home to us...that this was just an awful nightmare...I want to wake up! Our friends are checking in on us constantly, bringing food and lots of love; they want to be here for us and I appreciate them. Unfortunately the only thing that could make things better is for you to be here, to touch, to listen, to make us laugh. We miss you...I am trying to make you proud...to take care of our children...to not cry. It's just soo hard. I found this poem and know that if you could speak to us this would be your message:

To Those I Love and Those Who Love Me

When I am gone, release me, let me go.
I have so many things to see and do.
You mustn't tie yourself to me with tears.
Be thankful for our beautiful years.
I gave you my love, you can only guess
How much you gave me in happiness.
I thank you for love you have shown,
But now it's time I traveled on alone.

So grieve a while for me, if grieve you must.
Then let your grief be comforted by trust.
It's only for a time that we must past.
So bless the memories within your heart.
I won't be far away, for life goes on.
So if you need me, call and I will come.
Though you can't see or touch me, I'll be near
And if you listen with your heart, you'll hear
All my love around you soft and clear.
And then when you must come this way alone,
I'll greet you with a smile and say
"Welcome Home."

I love you Joey. ~your Anna




June 6, 2007:
This passage will be in your memory cards. It made me cry the first few times and then as I reread this passage, it has been more comforting and I know this describes us. Your warmth is what I feel that cradles me from crying, your love I know is here, and keeps my heart from dying. It's hard to believe that tomorrow starts without you, but I know that you would want me to continue with all the things we wanted to do together. You are in my heart, my soul, my dreams, my need to one day see and touch you again. You will forever be a part of me.

When tomorrow starts without me

When tomorrow starts without me, and I am not there to see;
If the sun should rise and find your eyes, all filled with tears for me;
I wish so much you woudn't cry, the way you did today.
While thinking of the many things we didn't get to say.

I know how much you love me, as much as I love you,
And each time that you think of me, I know you'll miss me too;
But when tomorrow starts without me, please try to understand,
That an Angel called my name , and took me by the hand,
And said my place was ready, in heaven far above,
And that I'd have to leave behind all those that I dearly love.

But as I turned to walk away, a tear fell from my eye.
For all life, I'd always thought, I didn't want to die.
I had so much to live for, so much yet to do.
It seemed almost impossible, that I was leaving you.

So when tomorrow starts without me, don't think we are far apart
For every time you think of me, I am right here in your heart.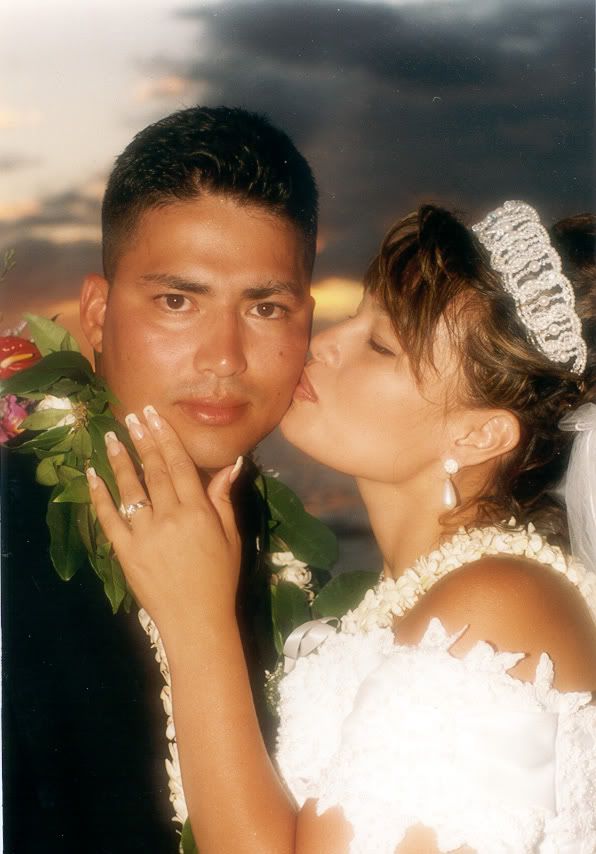 Please come to me in my dreams. I can't dream lately and I need you. Please Joe.



Dear Joey,
You were always so humble. I am hoping that you can hear and that you know just how many lives you have touched. I know it has helped me to hear the many great things that you have done and have not bragged about. There are sooo many people that will openly speak of how you impacted their lives and helped them achieve their personal greatness. I just need you to know how positively you have impacted my life too. You are my soul mate, my partner, my teacher, my best friend, my husband, and my gaurdian angel. You are loved by many and will never be forgotten.

Dear family and friends,
Please help me pay tribute to the great man that Joe was. Please write your favorite memory so that he and I can see memories through your eyes. I thank-you for being a part of his life and memory.